Black Sunday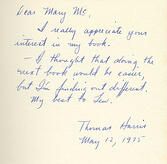 Thomas Harris is beloved among horror and thriller enthusiasts. This edition of Black Sunday includes an affectionate inscription from the author to the mother of his close childhood friend. The inscription reads, "Dear Mary Mc, I appreciate your interest in my work. I thought that doing the next book would be easier, but I'm finding out different. My best to Len. --Thomas Harris, May 12, 1975"
The Syrian Experiments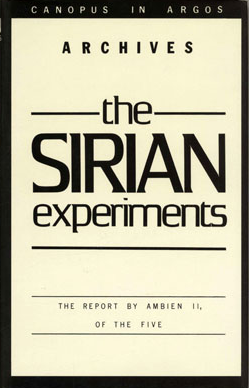 In her Canopus in Argos series, Nobel laureate Doris Lessing creates a "space" fiction universe to metaphorically explore spiritual, cultural and social issues. Volume III returns to the planet Shikasta of Vol. I, this time telling the story of human history and evolution from the Sirian perspective, a more bureaucratic and less advanced civilization. This edition is signed and inscribed by Lessing in April 1981 to Ingmar [Bjorksten] - a Swedish writer who has been connected to the Nobel Prize committee, 26 years before Lessing received the award.
Die Weltanschauung Der Indischen Denker, Mystik Und Ethik [Indian Thought And Its Development]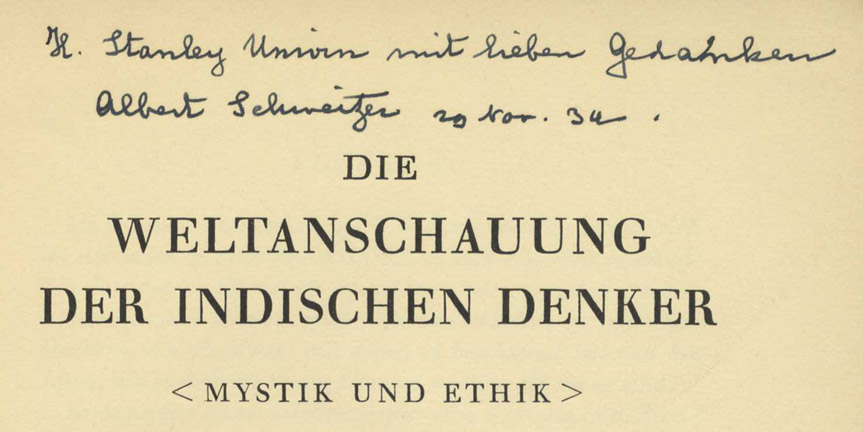 Nobel laureate Albert Schweitzer inscribed this edition to Stanley Unwin, "Mit lieben Gedanken, Albert Schweitzer, 20 Nov 34."The book was not published until early 1935, making this an early association copy indeed. The book represents Schweitzer's attempt to outline the Indian view of the world in the early 20th century. In the original German language, later translated into English as Indian Thought and Its Development.
The Mysterious Flame of Queen Loana, and Other Umberto Eco Titles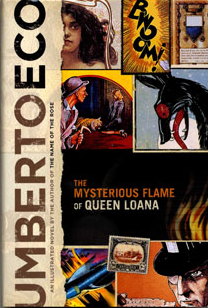 We're proud to offer a number of books from the personal library of Umberto Eco's bibliographer, James Contursi. Ten of these are inscribed from Eco to Contursi, including this first English-language edition of The Mysterious Flame of Queen Loana. The novel recounts rare-book dealer Yambo's attempts to retrieve his past, which ultimately leads him to rediscover the zeitgeist of his entire generation.
Of Mice and Men: A Play in Three Acts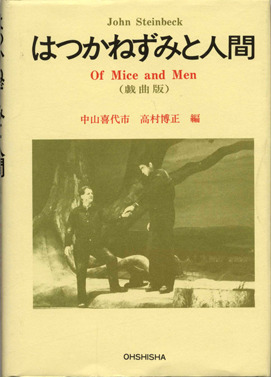 This first Japanese edition of John Steinbeck's Of Mice and Men has the preface and text of the play in English, along with notes and commentary in Japanese. It's signed by editor Kiyoshi Nakayama and inscribed to Lee Richard "Dick" Hayman, noted John Steinbeck scholar and historian and co-founder of the National Steinbeck Center in Salinas, CA: "For Dick Hayman / The leader of the / Steinbeck Foundation / with warmest wishes / Kiyoshi Nakayama / January 10, 1993 / (the official publication date)."