Gabriel García Márquez vs. Mario Vargas Llosa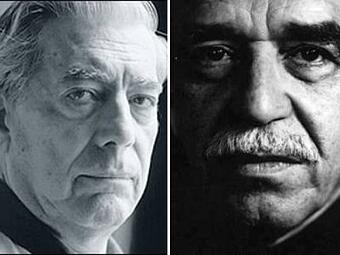 The fight between Mario Vargas Llosa and Gabriel García Márquez is very intriguing and differs greatly from the rest of our famous literary brawls in that their fight was both physical and personal. At one time, these Nobel Prize winners were the best of friends. However, after Llosa separated from his wife to be with a Swedish flight attendant, Llosa's wife sought comfort from his good friend, García Márquez.
Outside of a theatre in Mexico City, Llosa rushed up to García Márquez who opened his arms to embrace his dear friend, who promptly returned the outstretched arms with a swift slug to García Márquez's eye.The two have never made a public statement confirming what actually happened that day, nor have they spoken to each other since the incident.
Political and Familial Influences
García Márquez became intimately familiar with Colombia's history thanks to his maternal grandfather. Colonel Nicolás Ricardo Márquez Mejía was a veteran of the War of a Thousand Days and a founder of his grandson's hometown of Aracataca. He'd refused to stay silent about the banana strike massacre, denouncing Congress for the government's behavior in 1929.
The Colonel had led quite an interesting life. He'd killed a man in a duel andhad reportedly fathered 16 children. He taught young Gabriel lessons from the dictionary and took him to see ice for the first time--an encounter that would inspire an episode in One Hundred Years of Solitude. Meanwhile, his wife, Tranquilina Iguarán Cotes, filled her grandson's head with superstitions and ghost stories. Her storytelling style would influence García Márquez's own narrative style as he got older. He once observed, "I feel that all my writing has been about the experiences of the time I spent with my grandparents."
Young Gabriel spent his formative years with his grandparents. His mother, Luisa Santiago Márquez, fell desperately in love with his father, Gabriel Eligo García against the wishes of the Colonel and Tranquilina. Eligo García was a hojarasca ("dead leaf"), a newcomer attracted to the town by the banana industry. He had four illegitimate children already. The Colonel and his wife tried everything they could think of to dissuade the young couple, but to no avail. They married and settled in nearby Riohacha. >>Read More